The Outer Planets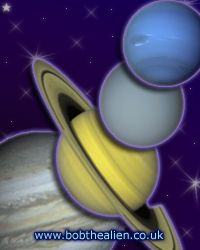 The Outer Planets are Jupiter, Saturn, Uranus and Neptune. They are also sometimes known as the Gas Giants as they are all huge in comparison to the Inner Planets and made up mostly of gas so don't have solid surfaces. The first of the Outer Planets is Jupiter. It is also the largest of the Outer Planets and is so big that Earth could fit into it 1,400 times! Jupiter is a massive 500,000,000 miles away from Mars, the last of the Inner Planets. Neptune, the smallest and most distant, is still big enough to contain 60 Earths!
Like the Inner Planets, the Outer Planets share similarities but each also has its own unique characteristics. As well as all being huge and being made up mostly of gases, all four have rings spinning around them, with Saturn having the most famous rings. All four planets also have large numbers of moons orbiting them. The picture below shows the orbits of the Outer Planets, also including Pluto, a dwarf planet which crosses the orbit of Neptune and was also once classed as an Outer Planet. It also shows how close the Inner Planets are to each other, appearing as a ball in the middle of the picture, although even those are millions of kilometres away from each other. It also shows the orbits of three comets: Halley's Comet, Comet Crommelin and, in red, Comet Hyakutake.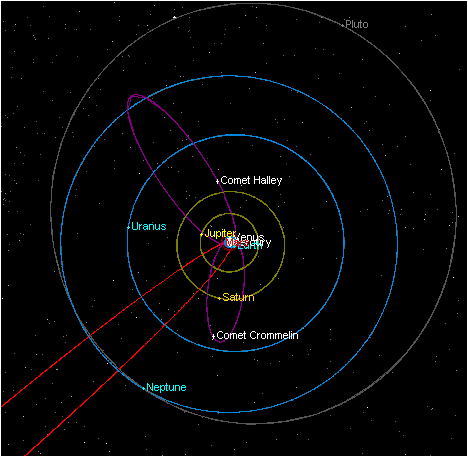 Despite their similarities, each planet has its own characteristics, although none of them, apart from Earth, are known to be able to support life. Below is a short description of each planet. For a more detailed look at the planet, select on the planet's name.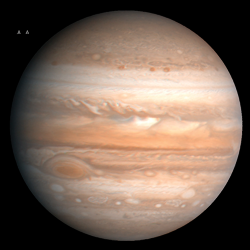 Jupiter is the biggest planet in the Solar System. However, a day on the planet only takes 9 hours and 55 minutes, meaning that the planet spins very fast, although a year on Jupiter (the length of time it takes for the planet to orbit the Sun) takes 11.9 years. This is because the planet is so far away from the Sun. The planet is made up mainly of hydrogen and helium, and, as far as we know, does not have a solid core (although may have a metallic liquid hydrogen core). Jupiter also has a magnetic field which would make the planet appear as big as the Sun if it was visible. Its main feature is a Great Red Spot, which is a storm that has been going on for years. The planet has 63 confirmed moons, with two moons larger than the planet Mercury and dwarf planet Pluto!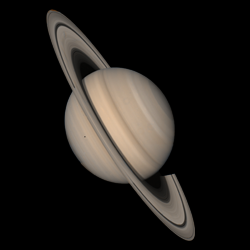 Like Jupiter, Saturn is also made up mainly of hydrogen and helium. It is so full of gas that its density (the amount of matter in an area) is so low that, if there was a sea of water big enough, it would float on it! Saturn takes 10 hours and 39 minutes to turn on its axis, so, everytime a day has passed on Earth, over two days have passed on Saturn. But the planet, being so far away from the Sun, takes 29 and a half Earth years to completely orbit the Sun. Saturn's most famous feature are its great rings, which appeared like ears when Galileo Galilei observed Saturn in the Seventeenth Century. These are rings of small dust, rock and ice particles, probably what remains of a shattered moon which once orbited Saturn. Saturn has at least 60 moons orbiting it. Most of them are small, apart from one called Titan which has an atmosphere similar to what scientists believe Earth's atmosphere was like before life began on it.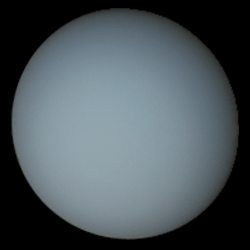 Possibly the most boring planet in the Solar System, Uranus has an atmosphere of hydrogen, helium and methane. The methane gives the planet a pale blue colour. The planet is tipped on its side, possibly from a collision with an object the size of Earth. It rotates on its tilted axis in 16 hours and 7 minutes, taking 84 years to orbit the Sun. The planet has 27 known moons, including one called Miranda which appears to be a moon that was shattered in a collision but reformed itself.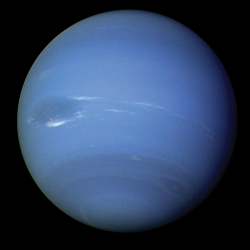 Often considered to be a twin planet of Uranus, Neptune is a similar size and has similar contents in its atmosphere. It orbits the Sun every 165 years, meaning it will never complete a orbit during the lifetime of a person living on Earth. The planet takes 16 hours and 7 minutes to turn on its axis. The winds on the planet are the strongest in the Solar System, with areas of high pressure shown by Dark Spots. Clouds of icy droplets of methane can also be seen in the upper atmosphere of Neptune. The planet has 13 moons known to orbit it, including a moon with eruptions of nitrogen.